MENTOR MONDAY: How to be a Better Boss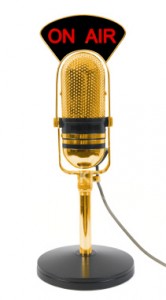 This month for Mentor Monday, we reviewed the 2010 best-selling business book by Robert Sutton, "Good Boss, Bad Boss: How to Be the Best… and Learn from the Worst." Sutton's book is based on the more than 100,000 responses he received when he asked employees what they want from their boss.
Listen to this Mentor Monday call  and save yourself a lifetime of learning. Whether you are an emerging leader or a seasoned executive, you'll benefit with at least one takeaway.
Listen to this entire podcast in only 30 minutes.
Want to read our book review?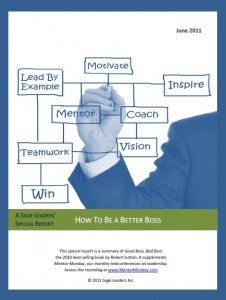 Click on the graphic or link,
Sage Leaders – How to be a Better Boss
If you like this type of practical learning then,
register for Mentor Monday (click on link) and you'll receive advance invitations to all our free calls.
Expect the Best,
Sylva Leduc
Leadership Strategist for Emerging Leaders
Managing Partner, Sage Leaders Inc.
P.S., On the call I mentioned Sutton's survey. It's been completed by more than 100,000 people!  Take the survey and evaluate your boss. And if you manage people complete it on yourself. http://goodbadboss.com/
If found this information informative (or fun) and you like Mentor Monday then like us on Facebook & share with your friends.
Or, let us know what you think in the comment box below!