Sylva Leduc
Sylva (or "Syl" as many people call her) Leduc has been a change agent in the lives of thousands of people for nearly two decades.
She is a leadership strategist who incorporates a unique blend of Consultative Coaching in her work with clients and organizations.  She has consulted, coached and trained leaders in small businesses, non-profits, large organizations, and Fortune 100 companies for more than 15 years.
Her strength?  Increasing clients' effectiveness and success by fine-tuning their leadership skills.

Sylva develops leaders who deliver results –
profound results.
Sylva is not one of those executive coaches who simply took a few coaching courses and then hung out a shingle.  She has extensive experience as an executive and as the former co-owner of a software company.  In Canada, she was instrumental in the success of million dollar projects with an international career transition organization.  In the mid-90s, after moving to the United States, she was recruited by a "Big Five" consulting firm and worked on many large projects which incorporated a blend of process consulting with the leadership development as a member of the Change Management group at Ernst & Young, LLP.  She was a Road Warrior and gathered more than 1M frequent flier miles.
Syl launched her own company in 2000, and co-founded a software company, with a custom CRM for business coaches, called Client Compass. Sylva, along with business partner, Robert Rican, grew the company very rapidly within three years.  As they were deciding whether to take the company public, they received an offer they couldn't refuse from the international publishing house, John Wiley & Sons.
Curious about how an Executive Coach became the President of a software company?  When you speak with Sylva, ask her to share some "insider secrets" about living in the software world.  She will share with you why she prefers coaching to "breaking code."
Sylva has a Masters degree in Educational Psychology and a BA in Psychology from the University of Calgary.
Even though she had been coaching managers and executives for many years, in 2001, Sylva sought post graduate training and studied Professional Coaching with the College of Executive Coaching.  Not satisfied with merely being a student, Sylva is now a faculty member at the College of Executive Coaching and contributed to the Amazon best selling coaching book, Personal and Executive Coaching, written by the college's founder, Dr. Jeffrey Auerbach. Through the college, she coaches top executives, leaders, strategic planners, consultants and PhD graduates on professional and personal development, business performance and strategy.
She also serves as one of the select executive coaches with the Ken Blanchard Companies where she received a coveted invitation to the Blanchard, "Week of Excellence" for her coaching services.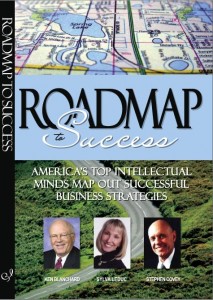 As a writer, she has written many articles and published two books. Her latest book, Roadmap to Success was co-authored with Ken Blanchard, Stephen Covey and other coaches/consultants.  More information about the book can be found in the Sage Leaders online store.
In 2007, Sylva received the International Coach Federation's PRISM AWARD for coaching the entire leadership team of Child Care Resources. Through an intensive coaching/consulting program, CCR increased their overall revenues by 53%.
Syl has a passion for helping leaders understand themselves through certified assessment tools, such as:  Myers Briggs Type Indicator®, DISC®, The Platinum Rule®, and The Talking Mirror 360°™ Feedback Program (our own unique program). Incorporating assessment tools into programs adds the dimension and depth not typically found in other coaching and leadership development programs.
Hailing from Canada, Syl now lives in Scottsdale, Arizona.  Since her home is right at the edge of the Sonoran Desert, she has occasional visits from bobcats, coyotes and havelinas.  Unfortunately, the visits from scorpions are much more frequent.

Print This Page