Coaching Awards
2012 – Phoenix ICF recognizes Sylva Leduc & LeadingAge AZ for Coaching Excellence
The International Coach Federation (ICF) Phoenix chapter recognized LeadingAge Arizona and SageLeaders.com as leaders in coaching excellence. On June 28, 2012, the ICF 2012 Prism Award was presented to LeadingAge Arizona and SageLeaders.com for their commitment to coaching as a leadership strategy through the Leadership Academy.
The Leadership Academy's mission and vision are to develop emerging and high performance leaders in aging services, and to create a generation of authentic, open-minded and transformational leaders who will collaboratively and innovatively create the future of success for aging services in Arizona. Over the past three years, 18 fellows attended the academy and attained high levels of success and business achievements.
Executive Director of LeadingAge Arizona, Genny Rose, states, "I am very proud to have been instrumental in the design, development and implementation of the Leadership Academy. It is very rewarding to see the Academy contribute to the sustainability of the LeadingAge Association through the development of capable and qualified leaders of the future."
"The Prism Award attests to the importance of leadership, coaching and the development of leaders. I am honored Genny Rose asked me to partner with her in the launch of the Leadership Academy, and appreciative that the Prism Award recognizes the value of the program." said executive coach, Syl Leduc. "The positive impact these emerging leaders will have on the quality of life of their residents and their staff will be profound."
About LeadingAge Arizona's Leadership Academy

2007 – Puget Sound Coaches' Prism Award for Coaching as a Leadership Strategy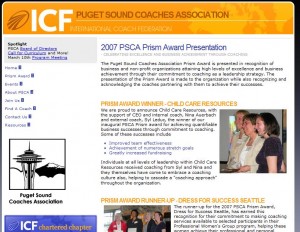 The Puget Sound Coaches Association Prism Award is presented in recognition of business and non-profit organizations attaining high levels of excellence and business achievement through their commitment to coaching as a leadership strategy. The presentation of the Prism Award is made to the organization while also recognizing and acknowledging the coaches partnering with them to achieve their successes.
Prism Award Winner – Child Care Resources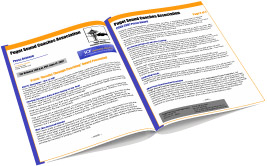 (as announced on the PSCA website)

"We are proud to announce Child Care Resources, with the support of CEO and internal coach, Nina Auerbach and external coach, Sylva (Syl) Leduc, the winner of our inaugural PSCA Prism award for achieving quantifiable business successes through commitment to coaching.
Some of these successes include:
Improved team effectiveness
Achievement of numerous stretch goals
Greatly increased fundraising
Individuals at all levels of leadership within Child Care Resources received coaching from Syl and Nina and they themselves have come to embrace a coaching culture also, helping to cascade a "coaching approach" throughout the organization."
Click here to read the ICF press release of the 2007 Prism Award given to Child Care Resources & Sylva Leduc:


Print This Page