Roadmap to Success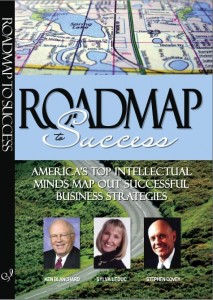 Do you have a "Leadership Roadmap" to guide you on the path to success?  If you did, then you would know when you are on the right road or embarking on a dangerous detour. With this new book, "Roadmap to Success," you will learn how to stay on the right path.
I have the honor and privilege of co-authoring my newest book, "Roadmap to Success" with Stephen Covey and Ken Blanchard.
Since 2001, I have worked with the Ken Blanchard companies as one of their hand-picked executive coaches, so when I was asked to contribute to this book I was delighted.
Many years ago I read the books by Blanchard and Covey and have considered them to be my "virtual advisors" on my road to success. Now, I walk alongside them in a whole new way. I want you to have the same powerful results that I have achieved by tapping into their wisdom and to learn from my own successes and learning experiences.
Included in the book are strategies and stories of how to be successful. You will learn undeniable success principles as Ken, Stephen and I share our secrets and reveal insights into designing your Roadmap for setting and achieving your professional and personal goals.  Invest in your own personal leadership roadmap with my tips, techniques and strategies.
Click on the link http://bit.ly/RoadMapToSuccess to order now.


Print This Page